Exploring

Linyanti Delta, Botswana

The waterways and marshes of the Linyanti River delta.



Linyanti River is in Northern Botswana, and the camp we went to was 120 miles west of Victoria Falls. Getting there is a bit of a clown show: jeep drive from Victoria Falls to the Botswana border; walk across the border, sheep deep your feet (to avoid transfering foot and mouth disease), another jeep to Kasane airport; small plan to Linyanti dirt airstrip; helicopter into Linyanti Expeditions camp. Miles without tarmac are a different scale than miles with.

Linyanti Expeditions is a seasonal camp, only open during the dry season when the river recedes, leaving behind lagoons, marshes, grasslands and adjacent riverine forest. As the waters recede during dry season, animals congregate around the remaining pools, leading to an intensity of social and predatory interactions.

With 'Prof Ken' as a guide, a pride of lions became the throughline of our time there; tracking or following them over the course of four days as they assembled the pride, then feasted together on a hippo. Alongside this multi-day journey was the most beautiful, quiet time with eagles, waterbuck, elephants, zebra and mokoro (traditional Okavango canoes).

African Bush Camps

know what they're doing.




Prof Ken with Kerry, halfway through a walking safari. As we sat here, an African Fish Eagle swooped down and caught a fish from that lake.
Farmers across the river in Namibia do routine controlled burns, but they often get out of control, carried across the Linyanti by the wind.
Wrong place, wrong time: this warthog happened to be at the exact point where four lions and four lionesses met, and soon he had 8 lions after him. He got away.
Ten feet or so from these two lions, our jeep got stuck in the mud. Each time we tried to move, it got more stuck. Eventually another jeep tried to tow us out; that nearly toppled the vehicle. What the guides always tell you is: so long as you're in the jeep, lions aren't interested in you. This time, they told us to get out of one jeep and walk to another. We walked 'briskly'.
One of my favorite sundowner locations ever. A baby elephant was at the lake to our left. A huge herd of elephants passed behind us. The sun went down and created the most magical light display as we drank and talked.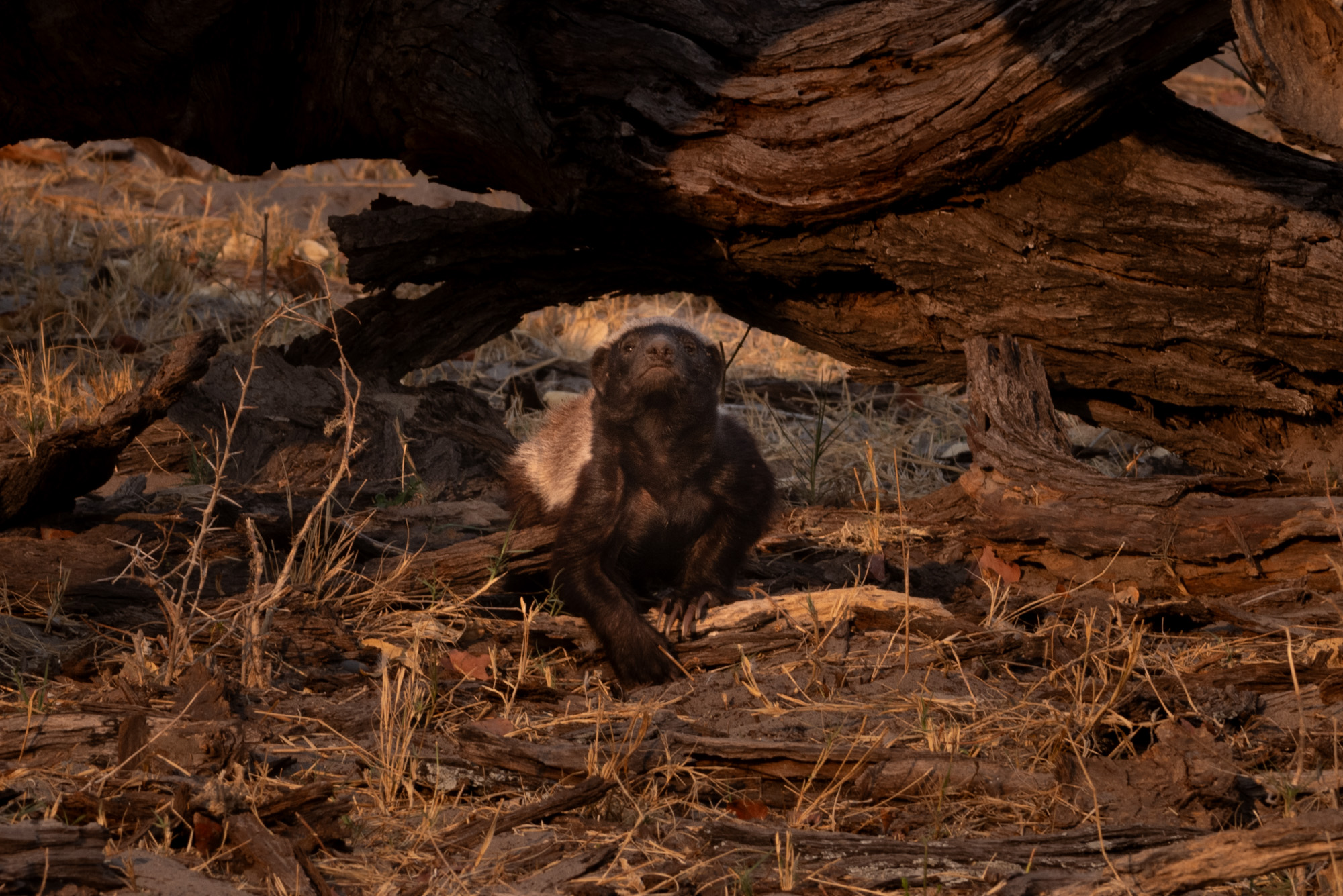 Pearl-spotted owlet, one of the smallest owls in Africa.
This hippo had a broken leg from a fight with another hippo; it didn't last long. These 8 lions began the process, that would ultimately feed many different animals.

Thanks to African Bush Camps and Tanda Afrika for making this trip magical for us.